By Bryan Anthony | Houzz
The Houzz Kitchen of the Week series offers a wide range of advice and inspiration to help you update or transform the heart of your home. In reverse order, here's a roundup of the five most popular Kitchens of the Week from 2016 — including one in Coronado — as measured by the number of people who have saved these photos to their personal Houzz ideabooks this year.
5. Stylish in Seattle
Design takeaway: Adding a vaulted ceiling will make a narrow kitchen feel more open.
The small, dark 1960s kitchen of interior designer Harmony Weihs and her family wasn't working. "The ceilings were under 8 feet high, the cabinets were falling off their hinges, and two people could not do anything in here at the same time without bumping into each other," she says. By adding a modest extension and remodeling the rest, she brightened up the room and created a layout that functions without all that bumping.
Here we are looking at the new portion of the kitchen, which extends just 7½ feet but makes all the difference. A view out a large picture window enlarges the space visually. The 4-by-6-foot window provides a lovely focal point and is surrounded by a stacked slate accent wall. The slate is a natural stone veneer on mesh-backed tiles that can be installed by a tile installer rather than a mason.
The ceiling had been under 8 feet high. The new vaulted ceiling extends the entire length of the kitchen, seamlessly tying the addition into the existing room. She outfitted the ceiling with four skylights and white, 5½-inch tongue-and-groove paneling.
"We have a lot of gray days in the Pacific Northwest, so making things light and bright is important here," the designer says.
4. Beach Bungalow Beauty
Design takeaway: Use retro-inspired appliances to create a cool vintage vibe.
When sitting in this kitchen, it's hard to tell that the recent renovation was a gut job. Interior designer Dominique Tharp of QualCraft Construction and the homeowners prioritized keeping the 1940s beach bungalow's charm, perhaps nowhere more so than in the cheerful kitchen. Beadboard, retro-style appliances, a Hoosier-style cabinet, schoolhouse pendant lights, seeded glass and crystal drawer knobs are just a few of the details that keep the home's original spirit alive in this vacation home in Coronado. Give Your Kitchen Some Charm With Retro Appliances.
A white-enameled Aga range fits right in with the period look. Tharp covered the modern-looking appliances, such as the dishwasher and built-in warming drawer, with panel fronts, and tucked others, such as the microwave and small beverage refrigerator, into the counter-facing side of the island. The island's walnut top is fully functional as a workstation surface for cutting.
3. Turning Back the Clock
Design takeaway: Create a kitchen that matches the rest of your home's design for a cohesive look.
It's easy to see why Marylou and Bob Graham love to eat at their kitchen table. Before they hired Heartwood Kitchens to gut the room, it had a dated 1980s look that was at odds with the rest of their 1890s Dutch Colonial home. Thanks to the renovation, their kitchen now is light-filled and full of Victorian-era charms, including antique English transferware tiles, vintage-style drawer pulls and beadboard. Like the Clean & Classic Look? Try One of These 5 Favorite Granites for Countertops.
The couple sacrificed an original window for a wooden hearth-style range surround that's now a focal point. The new skylights and lighter paint colors make up for the lost window. Abundant cabinets include long, narrow pullouts on either side of the range to keep herbs, spices and cooking oils handy.
2. Clean and Classic
Design takeaway: Add efficiency and function to your kitchen by creating different work zones.
Designer Jessica Williamson of JTWdesign wasn't willing to sacrifice efficiency over style when designing her family's kitchen. Using Houzz to gather ideas, she mixed unexpected modern design elements that add personality and texture to the clean and classic space. At the same time, she created different zones — including a designated baking center, a built-in bar for entertaining and a coffee station — to make the open kitchen as user-friendly as possible.
The large center island includes a granite composite two-bowl sink with a metallic gray finish. Clear acrylic stools for casual meals have a modern edge. "Because we have the adjacent dining room, I didn't want to see a sea of chairs," Williamson says. "The clear acrylic allows them to blend into the island; they're sturdy, super easy to clean and affordable." Make Your Kitchen More Sociable With Comfortable Bar Stools.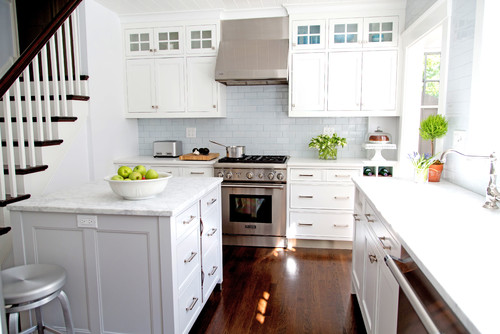 1. Style and Storage to Boot
Design takeaway: Update your kitchen storage systems to make the most out of every inch.
Sarah Robertson of Studio Dearborn designed a kitchen in Rye, NY, that's chock full of customized organizing solutions. The cabinets hold every kind of pullout and divider you can think of, including a recessed paper towel holder, a mixer shelf, a spice drawer, a custom knife block drawer and slots for baking sheets.
Light blue subway tiles on the backsplash provide a bit of color and lend a slight coastal look to the space, which works well for the 1920s Colonial-style home since it sits close to the water. Hits of stainless steel bring in a more modern style as well.
A wide spice drawer to the left of the range organizes jars. "You can read the labels and don't have to reach for ones high up," Robertson says. "It's a great setup right by a range. When I redo my own kitchen, I'm going to put in two."
The pullout for baking sheets has what looks like a cabinet front to help break up the drawers on that wall of cabinetry.